Agriculture
October 14, 2021
Producing more than a bale a minute up to par for hardworking Heys
Queensland, Crestmead (14 October, 2021) – AN intimate knowledge of the dairy industry, garnered through years of firsthand experience, and a prioritisation of high-performance equipment has helped Hey Harvesting secure a growing slice of harvesting work in the Taranaki region's thriving agricultural sector.
Based on a 220-head dairy farm near Stratford, the business is owned and operated by Andy and Rebecca Hey, who have expanded their fleet of workhorses from a humble beginning of two John Deere machines in 2004 to a lineup of 15 today.
The business provides farmers with a multitude of on-farm services, including maize, cereal crop harvesting and small-seed planting, but with more than 95 % of the customer base being dairy enterprises, efficient silage and hay-baling is imperative, and that is what drew Mr Hey to John Deere.
"We turned to John Deere balers as they have been consistent and reliable," Mr Hey said.
"Being a dairy farmer myself, I have high expectations around the quality and pace of work we provide, and with our equipment we know we are being as productive as possible."
In October last year, the silage and hay equipment lineup was boosted by the arrival of a John Deere V451R Variable Chamber Baler, to complement the 960 Variable Round Baler already in the field.
The V451R has a high performance 2.2 m wide feeding system, and high-capacity rotor, with a 480 mm diameter converging auger.
"I can produce more than a bale a minute with this machine, which is exactly where we need to be," Mr Hey said.
Durability is also important, as the Taranaki region's dairy sector sprawls across a range of land types, from rolling and steep hill country to peaty loams.
"We have found our balers can follow the ground quite easily and have been very little maintenance in terms of repairs," he said.
Although the silage and hay equipment has been parked in the shed during the off season, provisions for the next harvest are well underway, with Hey Harvesting adding John Deere 6230R and 6195R tractors this month in preparation.
"These machines will bring increased power and size to our business, and we are eager to put them into action in Spring and Summer," Mr Hey said.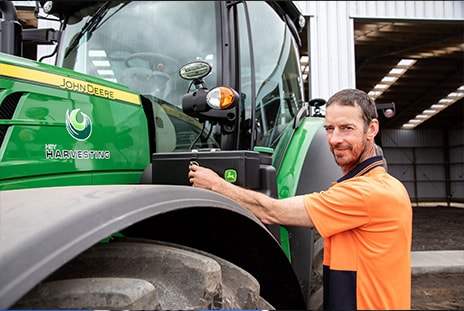 Diversification to drive growth
Growing up on his family's dairy operation, Mr Hey has always held a determination to succeed in business and in farming. He entered the agriculture industry as a share farmer, where he built enough equity to buy his own property, before starting the contracting business 17 years ago.
"When I started, we didn't have a client base but, through word of mouth, we were able to slowly gain new customers and build ourselves up," he said.
Diversification has also been a key to success. Alongside the dairy and harvesting enterprises, the business runs a quarry and has a fleet of five large trailers that are towed with their Deere tractors to supply rock for driveway and farm raceway construction during the winter months.
"We are unique in this region with our tractors, as most other suppliers use trucks, and with our John Deere equipment we can service more areas," he said.
Right tools for the job
In total, the full John Deere fleet of tractors at Hey Harvesting includes a 6410, 1750, 6430, 6830, 6155R, 6210R, 6215R, 6195R, 6230R and three 7530s.
Reflecting on the lineup, which has grown consistently over the last 17 years, Mr Hey said focus would now shift to enhancing the business's productivity with the machinery on board.
"The next phase will be consolidation," he said.
"We have grown the business to where it needs to be, after expanding year-on-year. So, the next step is about making the business stronger, and we are confident we can do that with the machinery we have."
About John Deere:
Deere & Company (NYSE: DE) is a world leader in providing advanced products and services and is committed to the success of customers whose work is linked to the land - those who cultivate, harvest, transform, enrich and build upon the land to meet the world's dramatically increasing need for food, fuel, shelter and infrastructure. Since 1837, John Deere has delivered innovative products of superior quality built on a tradition of integrity. For more information, visit John Deere at its worldwide website at JohnDeere.com or in New Zealand at JohnDeere.co.nz.